In the summer of 1956, several scientists and mathematicians gathered for an extended impromptu conference in Dartmouth, New Hampshire, to define a bold, expansive new term: artificial intelligence. Coined by John McCarthy in a paper the previous year, the words are now part of everyday fabric. As different wunderkinds rotated through this Woodstock of cybernetics, they defined an ambitious agenda:
"…that every aspect of learning or any other feature of intelligence can in principle be so precisely described that a machine can be made to simulate it. An attempt will be made to find how to make machines use language, form abstractions and concepts, solve kinds of problems now reserved for humans, and improve themselves."
They modestly estimated that these goals could be rapidly met:
"We think that a significant advance can be made in one or more of these problems if a carefully selected group of scientists work on it together for a summer."
Okay, it's easy to mock. But that's not why I'm here. In several books, web pages, and the 2020 Netflix documentary Coded Bias, the following picture is used to identify the moves and shakers from that turning point in history: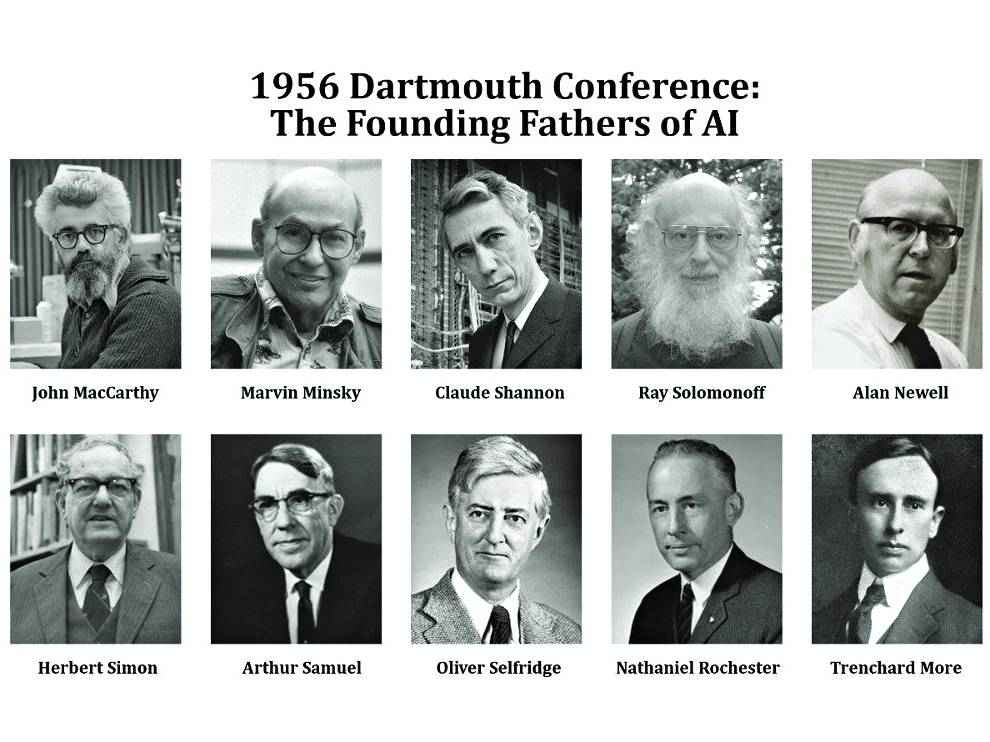 Except that the man at bottom right is not Trenchard More. Take another look: this man is not even dressed in clothing from the same century as the others. Who is he? Hold that thought.
Let's look at a famous photograph from that summer of computer love:
This photograph of early genius nerds cavorting on the grass is legendary, although it is seldom fully captioned. After some research, I put a name to every face. There, third from right, is the real Trenchard More.
Who, then, is the staid gentleman so obviously out of place in the mug-shot line-up?
To get the answer, it is only necessary to run a Google image search on the name "Trenchard More," and up pops this picture:
The signature (and caption) is of one Louis Trenchard More, instructor in physics at Johns Hopkins University… died 16 January 1944, 12 years before the picture on the lawn. The false Trenchard More picture may not have even been taken in the 1900s. Its place in the line-up grid is the result of lazy Googling. For a long time, actual Trenchard More pictures were much harder to find than any of Louis T-M. Recently, the results have improved.
Here is the picture used in Trenchard More's obituary following his death on October 4, 2019 at the splendid age of 89:
How better to end than quoting that obituary:
Trenchard was born in Boston and raised in Hingham, where his family had a longstanding connection to Old Ship Church. He received his bachelors degree in mathematics from Harvard and a doctorate in electrical engineering from M.I.T. before teaching at Yale University in the 1960s. He was an early contributor to the field of artificial intelligence and developed Array Theory, the mathematics of nested interactive arrays. His work took him to IBM, and internationally to Queens University in Canada and the Technical University of Denmark. Trenchard married Kath- arine Grinnell Biddle of Milton in 1958. They took their family up Mount Katahdin, spent summers on the Elizabeth Islands, and went skiing in the Green Mountains, in addition to cultural forays to New York City. When grand- children arrived, Trenchard gathered his family for many summers on the coast of Maine. His love of natural beauty was echoed in his appreciation for the music of Stravinsky. Trenchard is survived by his beloved wife Kate, son Paul More and his wife Elizabeth of Concord, son Grinnell More and his wife Linda of Jacksonville, daughter Libby Pratt and her husband Neil of London, and six grandchildren.